On my previous Ubuntu 14.04 setup, I was running wine perfectly.
However, on my bare-bones Debian 8 installation, I was having deep frustrating problems with some random incompatibilities in the order of the way I tried to install wine.
By far the easiest way to install Photoshop CS6 100% working on Linux is with a program called PlayOnLinux that uses wine.
Update 2019: Use Crossover instead of PlayonLinux! Use my other  Tutorial here:
How To Install Photoshop CC & Photoshop CS6 on Linux
First, go to photoshop.com or adobe.com and find a trial download version of photoshop.
Then, download a program called PlayOnLinux. PlayOnLinux is a graphical version of wine that automatically installs the relevant versions of wine and libraries so you don't have to worry about anything.
| | |
| --- | --- |
| 1 | sudo apt-get install playonlinux |
Open PlayOnLinux and click Install a program.
(In the image below ignore my installation of Photoshop CS6 because during this tutorial I will be installing Photoshop CC on Debian 8.)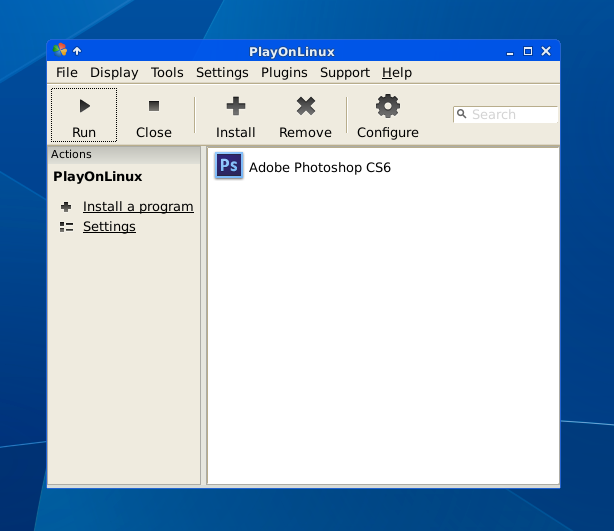 Choose Photoshop CS6 and press Install: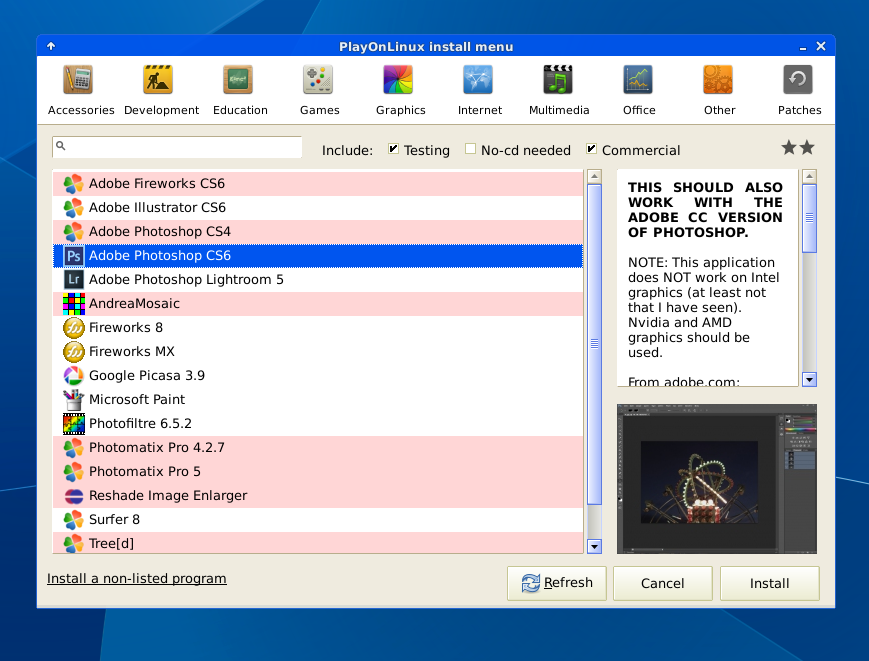 Then click on Next, and then Browse, and then navigate into your downloaded Photoshop folder and find Set-up.exe.
Choose a New Virtual Drive.
BONUS: Get all your fonts from Windows into your Photoshop CC/CS6 installation on Linux!
For a while, I was using Photshop inside virtual box. The only reason I kept using a virtual machine was because I had all of my fonts in there…
To move fonts to your new PlayOnLinux installation of Photoshop:
Open your file manager.
Navigate to:
| | |
| --- | --- |
| 1 | ~/.PlayOnLinux/wineprefix/ |
Open the folder of your relevant installation.
Enter the folder called drive_c, then windows, then Fonts.
You can paste all your .otf and .ttf font files here and next time you open Photoshop, you will be able to use those fonts.
If you are currently using Photoshop, save your work, close Photoshop & PlayOnLinux, and then open it again. Your fonts will be ready to use.
Alot of guys tell me the only reason they are still using Mac or Windows is either because of games or photo and video editing software.
What I will say to you is that you can run quite a lot of the most proprietary of software inside of a linux machine.